ABOUT US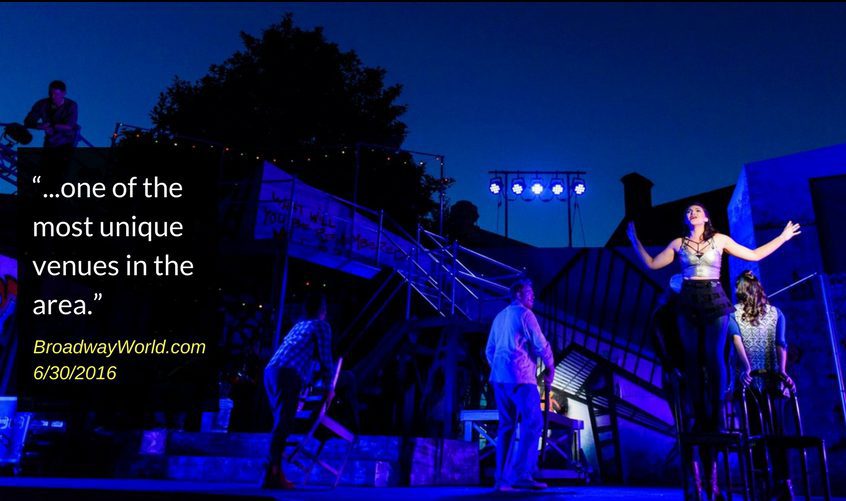 Our Mission: To provide opportunities for the community to learn about and experience live theatre under the stars.
ASGT is an outdoor community theatre led by volunteers, presenting musical theatre (featuring live music) in an intimate setting in historic Annapolis. While other theatres in the Baltimore-Annapolis area occasionally present outdoor shows, all ASGT productions are presented in our unique outdoor space during the summer months only. Each performance season includes three musicals chosen to entertain and delight you. For a fun, magical, unique way to experience downtown Annapolis, join us this summer!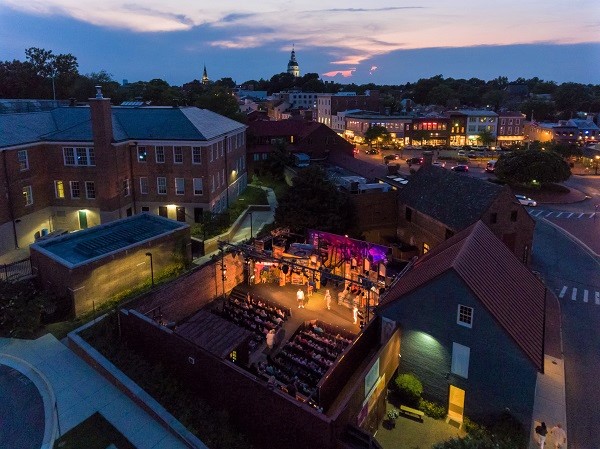 Fun, casual, and never stuffy, ASGT is:
Unique
An outdoor community theatre in Maryland's capital city, ASGT produces musicals (featuring live music) every summer at our historic property. Our building dates to about 1800 and we own and maintain it ourselves—it's rustic, charming, challenging, intimate, and magical.
Entertaining
Our location in the heart of Annapolis' downtown scene and our summertime schedule lend themselves to productions that are sometimes provocative but always engaging and entertaining. Enjoying dinner at one of our city's many fine restaurants and a show at ASGT is the perfect way to spend a summer evening in Annapolis.
Community-Oriented
ASGT is led by a volunteer Board of Directors. With no paid staff, we rely on the support of our patrons, donors, and countless volunteer actors, tech & backstage crew, ushers, box office staff, and other volunteers from our community to present live "theatre under the stars" each summer.
What do we mean by "our community"? Community is a feeling, not a name or location. If you enjoy our performances as a patron, contribute financially, or have ever participated on- or off-stage at ASGT (or loved and supported people who have), you are part of ASGT's community. With a storied 55-year history as the only dedicated outdoor summer theatre in Maryland's capital city, ASGT's community is broad and diverse. Each and every friend and fan is appreciated and welcomed.
ASGT is recognized by the IRS as a 501(c)(3) nonprofit, charitable/educational organization (Tax ID 52-6078380), and is a proud member of:
American Association of Community Theatre
Annapolis and Anne Arundel County Chamber of Commerce
Downtown Annapolis Partnership
Visit Annapolis and Anne Arundel County
Ward One Residents Association
"The performers were excellent, the orchestra was amazing, and really enjoyed the show. Will make this part of our summer ritual." TripAdvisor review by Puma32 9/1/2018
"This place was amazing. I wasn't sure what to expect. I loved it! The music and acting was so good! It was small and quaint. I would rather come here to see a show that one of the bigger places…This is my new place to go!" Facebook review by Cindy Petrey 6/18/2016
"Highly recommend! Top quality shows with great casts and production values. Wonderful way to spend a summer evening under the stars in the heart of downtown Annapolis. You will not be disappointed." TripAdvisor review by Donna F 5/2/2016
"I attended my first performance at ASGT and was simply amazed at the performance and accommodations. An open theater on a beautiful night and very funny professional show put on very talented actors. Can't wait for next season to see more." Facebook review by Tony Munafo 8/29/2016
"This is such an 'Annapolis' thing for us locals and we look forward to each and every show. Cheers to Annapolis Summer Garden Theatre!" TripAdvisor review by DinksMom2720 8/9/15
"I know, your expectation for an inexpensive ticket to such a small theater, but wow! I have seen several shows at this venue one better than the next. It is an intimate stage, one that invites the audience to truly see the genius in working a small stage to its fullest capacity. 17 thumbs up to the cast and crew of this amazing theater!" Google review by Amy Juras 7/17/16
"[ASGT] is a favorite summer tradition. Every year I have enjoyed the performances." Facebook review by Susan Koslowski Curcio 9/16/15
"Annapolis Summer Garden Theatre is a hidden gem of Annapolis. There is not a bad seat in the house and the staff will treat you like family!" Facebook review by Tina Gamble Horn 10/3/2015
"For a small community theatre, I was surprised at how professional and talented the cast was. We have a great time every time we go." Google review by Kerry McQuigham 4/23/16
"Love this theater. It is small and intimate and the quality of the plays that I have seen so far are testament to their passion for theater…Recommend it highly." Trip Advisor review by David B 9/15/2015
"We thoroughly enjoyed our experience at Annapolis Summer Garden Theatre…The actors were excellent, the play was very entertaining, and they even have live music!" TripAdvisor review by vanniannie 8/16/15
"@ASGTAnnapolis…A wonderful night and a fantastic performance! Thanks for a great evening out." Tweet by @Doug7856 6/1/15
"It was like a Broadway production without the crowds, expense, and travel. Love it!!! Highly recommend for a lovely date night in Annapolis." Google+ review by Nancy Barbieri 8/15/15
"This is truly one of Annapolis's hidden treasures…The all volunteer casts do a remarkable job." TripAdvisor review by Alex C 8/13/2015
"Wonderful show last night…! My husband and I laughed and enjoyed the performance. Great acting and singing! Thank you ASGT for making our evening in downtown Annapolis a great start to summer." Facebook post by Mary Watson 5/30/15
"ASGT has gone all out for its 50th birthday…It's the audience that gets to celebrate." Bay Weekly 8/11/16
"the actors perform phenomenally…a great cast with beautiful vocals." Maryland Theatre Guide 5/31/15
"I left the theater with a song in my heart." Maryland Theatre Guide 8/12/15
"ASGT is…heading into a year of celebratory anniversary events. Yet…ASGT is still as original, fresh, and frisky as a young puppy." DCMetro Theater Arts 8/7/15
2023 (scheduled)
Head Over Heels
First Date
Footloose
2022
Rock of Ages
Bright Star
The Drowsy Chaperone
2021
2020
Postponed until 2021 due to COVID-19
2019
Mamma Mia!
Songs for a New World
Crazy for You
2018
9 to 5
Altar Boyz
Bullets Over Broadway
2017
Light Up the Stars
In The Heights
The Full Monty
Sister Act
2016
50 Years Under the Stars: A Musical Retrospective
The Producers
Rent
The Wedding Singer
2015
The Addams Family
Catch Me If You Can
The Mystery of Edwin Drood
2014
Monty Python's Spamalot
SHOUT! The Mod Musical
42nd Street
2013
Into the Woods
[title of show] (clean version)
Swing!
2012
Xanadu
Avenue Q
Anything Goes
2011
Hairspray
The Marvelous Wonderettes
Chicago
2010
Buddy: The Buddy Holly Story
The 25th Annual Putnam County Spelling Bee
Forever Plaid
2009
Copacabana
Quilters: The Musical
Smokey Joe's Café
2008
All Shook Up!
Forever Plaid
On the Town
2007
Thoroughly Modern Millie
Sweeney Todd
Godspell
2006
40 Years Under the Stars: An Anniversary Retrospective
Cabaret
Urinetown
Rodgers and Hammerstein's Cinderella
2005
A Chorus Line
The Tempest
Nunsense
2004
Crazy for You
The Taming of the Shrew
Gypsy
2003
My Fair Lady
Merry Wives of Windsor
Evita
2002
Rock Around the Dock, Take 2
Promises, Promises
Twelfth Night
Rock Around the Dock
2001
Good News
Much Ado About Nothing
Into the Woods
2000
Once Upon a Mattress
The Comedy of Errors
Jesus Christ Superstar
1999
Me and My Girl
As You Like It
West Side Story
1998
Kiss Me Kate
A Midsummer Night's Dream
Joseph and the Amazing Technicolor Dreamcoat
1997
Anything Goes
Li'l Abner
Leader of the Pack
1996
The Wizard of Oz
The Pirates of Penzance
Side by Side by Sondheim
1995
Annie
Bye Bye Birdie
Nunsense
1994
Little Shop of Horrors
45 Minutes from Broadway
Guys and Dolls
1993
42nd Street
Godspell
The Talent Machine VI
The Music Man
1992
Do Black Patent Leather Shoes Really Reflect Up?
Chicago
The Talent Machine V
You're a Good Man, Charlie Brown
1991
Grease
The Pajama Game
The Talent Machine IV
Carnival!
1990
Can-Can
The Talent Machine III
Oliver!
1989
Come Blow Your Horn
The Talent Machine II
Singin' in the Rain
1988
The Odd Couple
The Talent Machine
42nd Street
1987
Little Mary Sunshine
Evita
1986
Pippin
The Sound of Music
1985
Annie
1984
Carousel
Hello, Dolly!
1983
Anything Goes
Brigadoon
1982
Grease
Oklahoma!
1981
The Music Man
Man of La Mancha
1980
Guys and Dolls
Kiss Me Kate
1979
The King and I
Bye Bye Birdie
1978
Once Upon a Mattress
Mame
1977
Gypsy
Godspell
Annie Get Your Gun
1976
South Pacific
1776
1975
1776
1974
Fiddler on the Roof
Showboat
1973
My Fair Lady
Company
1972
Cabaret
Destry Rides Again
1971
The King and I
I Do! I Do!
1970
How to Succeed in Business Without Really Trying
Mame
1969
The Sound of Music
Who's Afraid of Virginia Woolf
Luv
1968
Camelot
The Odd Couple
Oh, Kay!
1967
Hamlet
Night of the Iguana
Carnival!
1966
Brigadoon
You Can't Take It With You