Sister Act
Sister Act
May 25-June 17, 2017
Thursday-Sunday plus Wednesday June 14, all at 8:30pm
Book by Bill & Cheri Steinkellner
Music by Alan Menken | Lyrics by Glenn Slater
View performance photos on Facebook
The Show
When sassy showgirl Deloris Van Cartier witnesses a murder, she's put in protective custody in an unexpected place: a convent! Disguised as a nun, she finds herself at odds with both the rigid lifestyle and the uptight Mother Superior. Using her disco moves and singing talent to inspire the choir, Deloris breathes new life into the community but, in doing so, blows her cover. Soon the gang is giving chase, only to find themselves up against Deloris and the power of her newly found sisterhood.
A feel-good musical comedy smash based on the hit 1992 film starring Whoopi Goldberg, Sister Act is a sparkling tribute to the universal power of friendship. Filled with rousing music, outrageous dancing, and a truly moving story, the show will give you good reason to REJOICE!
Rated PG.
Parental discretion is always advised. Parents/guardians should determine beforehand whether the subject matter is appropriate.
Directed by Clare Shaffer
Musical Direction by Paige Rammelkamp
Choreography by Rikki Howie Lacewell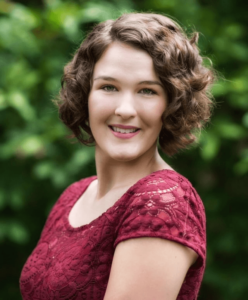 Clare Shaffer is a professional director based in Washington, DC who works across genres and specializes in new play/musical development. She is the Associate Producer and Casting Director for Nu Sass Productions and Pallas Theatre Collective, and has had the pleasure of working with companies including Olney Theatre Center, Theater J, Mosaic, Monumental, and The Arlington Players. Favorite credits include Avenue Q, The Rocky Horror Show, Venus in Fur, and Man of La Mancha. Clare earned her B.A. in Dramatic Arts and Communications from UNC Chapel Hill, and studied directing at Trinity College Dublin. For more about Clare, check out our Get To Know feature.
"Sister Act is a wonderfully over-the-top show—bursting with energy, strong characters, and sharp dialogue. I look forward to working with our cast to develop strong relationships, mine the comedy in the script, and discover what happens when cloister and club aesthetics come together. I can't wait to explore this upbeat musical with Annapolis Summer Garden Theatre!"

Reviews
"There is so much inspired singing it's hard to pick favorites… This entire cast has pipes like a cathedral organ…"
Read the full review from Bay Weekly.
"…you can bet all the dollars in the collection plate that if ASGT had rafters they would surely be ringing with all the wonderful singing… a wonderful and spirited production, full of heart and light…"
Read the full review from TheatreBloom.
"[Kanysha] Williams blazes brilliantly, instantly commanding our attention and holding it through the entire performance…"
"Debuting at ASGT is Debbie Mobley, perfectly cast as Mother Superior…her singing of 'Here Within These Walls' is an inspirational highlight."
Read the full review from The Baltimore Sun.
"[Sister Act] combines wonderful music and singing with excellent directing, lighting, costumes, and set design – a perfect way to kick off the theater's 52nd season."
Read the full review from DC Metro Theater Arts.
"Kanysha Williams plays Deloris Van Cartier… I couldn't take my eyes off her through the entire performance."
Read the full review from Maryland Theatre Guide.
Cast List
Deloris Van Cartier – Kanysha Williams
Mother Superior – Debbie Mobley
Sister Mary Robert – Rachel C. Perry
Sister Mary Patrick – Kylie Airin Sjolie
Sister Mary Lazarus – Traci Denhardt
Monsignor O'Hara – Greg Jones Ellis
Curtis – Theodore Sapp
Eddie – Josh Mooney
TJ – Kyle Eshom
Joey – Jeff Hawkins
Pablo – Danny Santiago
Sister Mary Martin-of-Tours – Stephanie Bernholz
Sister Mary Theresa – Martha Fox
Michelle – Jasmine Jones
Tina – Emily Sergo
Ernie – Greg Jones Ellis
Ensemble:
Kirsti Dixon
Heather McMunigal
Hannah Rochau