The Full Monty
The Full Monty
June 29-July 22, 2017
Thursday-Sunday plus Wednesday July 19, all at 8:30pm
Book by Terrence McNally
Music & Lyrics by David Yazbek
View performance photos on Facebook
The Show
Six unemployed steelworkers in Buffalo, NY are low on both cash and prospects. While spying on their wives at a "girls' night out," the men realize just how much the women enjoy watching male strippers. Jealous and out-of-work, the group of lovable misfits devises a daring and titillating way to make some quick cash and get back on their feet. In preparing, they find themselves exposed—physically and emotionally—and must learn to conquer their fears and self-consciousness, overcome prejudices, and find strength in each other.
Based on the hit 1997 film of the same name, The Full Monty is a heartwarming, upbeat comedy that entertains and grabs your heart. Filled with honest affection and razor-sharp humor, the show also features what may be the most highly-anticipated closing number ever!
Rated R.
Parental discretion is always advised. Parents/guardians should determine beforehand whether the subject matter is appropriate.
Directed by Mason Catharini
Musical Direction by Emily L. Sergo
Choreography by Andrew Gordon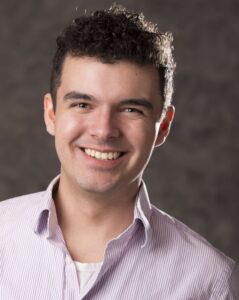 Mason Catharini is an actor, director, and founder of the AF Theatre Company at UMBC. A Maryland native and recent graduate of UMBC, he has performed extensively in the Baltimore area with Spotlighter's Theatre, and recently understudied for Adventure Theatre's production of Aladdin and the Wonderful Lamp. Recent directing credits include RENT for the 50th anniversary season of Wildwood Summer Theatre in Bethesda, Maryland. Learn more about Mason in our Get To Know feature.
"A rags-to-riches story (minus the riches), The Full Monty is a show with heart. A rough and tumble band of misfits lay it bare and find their purpose in the most unlikely of places: Theatre! I'm excited to dive into this world of comedy, community, and comradery with our cast and crew, and look forward to bringing this story to the ASGT stage."

Articles & Reviews
"Talented acting and singing combines with catchy songs and music, as well as wonderful directing, staging, and creative lighting, to present an enchanting night of theater where the cast truly bares it all."
Read the full review from DC Metro Theater Arts.
"…showcases strong ensemble connectivity and great vocal talent. The bromance that this ensemble of leading men creates is quite charming; their chemistry is simply delightful."
Read the full review from MD Theatre Guide.
"The humidity may be rising this summer, but ASGT's production of The Full Monty is bringing the sizzle. ASGT, now in its 51st year, remains one of the Annapolis community's artistic jewels."
Read the full article from Baltimore OUTLoud here.
"75 percent who come will do it to see 'the full Monty,' but they'll see a great show…"
Read the full article from The Capital here.
Cast List
Jerry Lukowski – Eric Hufford
Nathan Lukowski – Matthew Beagan
Pam Lukowski – Kaitlin Fish
Teddy Slaughter – Kevin Cleaver
Dave Bukatinsky – Dean Allen Davis
Georgie Bukatinsky – Cara Pellegrino
Harold Nichols – Brandon Deitrick
Vicki Nichols – Caitlyn McClellan
Malcolm MacGregor – Christian Gonzalez
Molly MacGregor/Susan Hershey – Stephanie Bernholz
Ethan Girard – Justin Thomas Ritchie
Jeanette Burmeister – Adam Timko
Buddy (Keno) Walsh – Paul Pesnell
Reg Willoughby – Chris Timko
Tony Giordano – Wendell Holland
Estelle Genovese – Heidi Tolson
Joanie Lish – Leigh K. Rawls
Horse – Willie Baker
Ensemble:
Angel Duque