Bright Star

Bright Star
Inspired by a true event
Due to the COVID-19 pandemic, we have made the difficult decision to postpone our entire 2020 season to 2021.
We are so impressed with our season lineup and our casts and artistic teams that we invited everyone to return in 2021!
Now July 1-24, 2021 (no show July 4)

Music, Book & Story by Steven Martin
Music, Lyrics & Story by Edie Brickell
Directed by Phil Vannoorbeeck
Music Direction by Paige Rammelkamp
Choreography by Kristin Rigsby
All shows begin promptly at 8:30 pm
The Show
Inspired by a true event and featuring the Tony-nominated score by Steve Martin and Edie Brickell, Bright Star tells a sweeping tale of love and redemption set against the rich backdrop of the American South in the 1920s and '40s.
When literary editor Alice Murphy meets a young soldier just home from World War II, he awakens her longing for the child she once lost. Haunted by their unique connection, Alice sets out on a journey to understand her past—and what she finds has the power to transform both of their lives.
With beautiful melodies and powerfully moving characters, the story unfolds as a rich tapestry of deep emotion. An uplifting theatrical journey that holds you tightly in its grasp, Bright Star is as refreshingly genuine as it is daringly hopeful.
Rated PG
The Director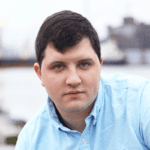 Phil Vannoorbeeck is beyond ecstatic to join Annapolis Summer Garden Theatre as the director of Bright Star. He is currently a company member with Green Globe Theatre in Baltimore and an active actor combatant with the Society of American Fight Directors. Much of his previous works include directing Shakespeare musicals such as Measure for Measure and Twelfth Night. He is thrilled to bring his focus of text and character work to this original musical. Phil holds a B.A. of Theatre and Ancient Studies from the University of Maryland Baltimore County and lives up past Baltimore with his wife and two dogs on their family farm.
Cast
Alice Murphy………………………Heather McMunigal
Jimmy Ray Dobbs………………………Mason Catharini
Billy Cane………………………Jake Schwartz
Margo Crawford………………………Mallorie Stern
Mayor Josiah Dobbs………………………John Purnell
Mama Murphy………………………Julie Fox
Daddy Murphy………………………George King
Lucy Grant………………………Emma Godfrey
Daryl Ames………………………Davis Wootton-Klebanoff
Ensemble:

Stephanie Bernholz
Alex Gubler
Rachel Kalafos
Julia D. Malecki
Kylie Wright
---
The cast of the Broadway musical Bright Star, perform the number "If You Knew My Story" live at the 2016 Tony Awards:
The show's creators, famed entertainer Steve Martin and veteran singer-songwriter Edie Brickell discussed Bright Star when it opened at the Kennedy Center a few years ago. Check out this illuminating interview to learn more.
---
Bright Star is presented through special arrangement with and all authorized performance materials are supplied by Theatrical Rights Worldwide, 21180 Avenue of the Americas, Suite 640, New York, NY 10036. theatricalrights.com
Produced by
Joey Parnes, Sue Wagner, John Johnson,
Zebulon LLC, Jay Alix & Una Jackman, Len Blavatnik, James L. Nederlander, Carson & Joseph Gleberman,
Balboa Park Productions, The Shubert Organization, Jamie deRoy/Catherine Adler/Cricket Jiranek
In Association With
Roger Hess, A.C. Orange International, Broadway Across America, Sally Jacobs & Warren Baker
Diana DiMenna, Exeter Capital, Agnes Gund, True Love Productions
AND
The Old Globe