In the Heights
In the Heights
August 3-September 3, 2017
Thursday-Sunday at 8:30pm
Music & Lyrics by Lin-Manuel Miranda | Book by Quiara Alegria Hudes
Conceived by Lin-Manuel Miranda
View performance photos on Facebook
The Show
In New York's largely Dominican-American neighborhood of Washington Heights, the windows are always open and the breeze carries the rhythm of three generations of music. It's a vibrant community on the brink of change—full of hopes, pressures, and dreams. When Usnavi, owner of the corner bodega, discovers that he sold a winning lottery ticket worth $96,000, everyone on the block spends three summer days fantasizing about how they would spend the small fortune and finally achieve their dreams.
From Lin-Manuel Miranda, creator of the Broadway sensation Hamilton, comes a heartfelt musical that tells the universal story of the American Dream set to a Latin beat. A jubilant celebration of urban life, the show's tuneful score is enlivened by the stirring rhythms of salsa, Latin pop, and rap, and its zesty choreography is like none you've seen on our stage before.
Rated PG.
Parental discretion is always advised. Parents/guardians should determine beforehand whether the subject matter is appropriate.
Directed by Darnell Patrick Morris
Musical Direction by Chris Pinder
Choreography by Eben K. Logan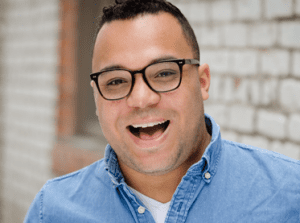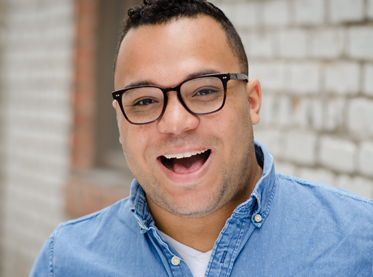 ASGT audiences will remember Darnell Patrick Morris as the director of …Spelling Bee (2010), Hairspray (2011), Avenue Q (2012), and Into the Woods (2013). He has been a director, choreographer, and theatre educator in the Washington, DC area for the past decade and recently founded Ovations Theatre, the DC-metro area's newest musical theatre education and performance program for young people. His students have appeared on Broadway and on many local professional stages including Signature Theatre, Area Stage, Olney Theatre Centre, ATMTC, Woolley Mammoth, and Summer Dinner Theatre. His past productions haven been honored with many awards, including the City Paper's Best of Baltimore (Best Musical 2015: Caroline or Change at Stillpointe Theatre Intiative); Ruby Griffith Awards (Outstanding Achievement in a Musical 2013: Avenue Q at ASGT, and others); the WATCH Award (Outstanding Musical 2013: Ragtime at Kensington Arts Theatre), and BroadwayWorld.com Washington DC Awards (Best Community Theatre Production of a Musical 2013: Ragtime).
"At its core, In The Heights is a show about family, love, and connection. I am beyond excited to direct this musical by the brilliant Lin-Manuel Miranda (of Hamilton fame). Through his lyrics and score, he creates a story that transcends race, age, and economic status to focus on the human condition. The show's universally relatable themes make the story relevant and enjoyable for everyone—especially those who value family, relationships, and hard work. I truly believe that In The Heights is a perfect story for ASGT's audience, and I am honored to create, with my team, this beautiful piece of theatre."
Reviews
"…the hottest thing in Annapolis…this production is so outstanding it's easy to see why the Hamilton composer's show won the 2008 Tony for Best Musical."
Read the full review from Bay Weekly.
"Every single cast member…deserves a shout out really, with each bringing a Broadway-caliber performance and their own individual style to this show…In the Heights leaves you feeling happy, hopeful, and wanting to see it una vez más."
Read the full review from Maryland Theatre Guide.
'In the Heights' of entertainment: Annapolis Summer Garden Theatre engages with Miranda's 2008 musical
Read the full review from the Baltimore Sun.
Cast List
Usnavi – Tim German
Benny – Cory Jeweler
Nina Rosario – Julia Salatti
Vanessa – Christin Wright
Camila Rosario – Nikki Arbiter-Murphy
Kevin Rosario – Steve Castrodad
Abuela – Cynthia Bolin
Sonny – Anthony Johnson
Daniela – Mayumi Griffie
Carla – Alli Musser
Piragua Guy – Tobias A. Young (8/3-20); Christian Gonzalez (8/24-9/3)
Graffiti Pete – Ronald Rios
Ensemble:
Carlotta Capuano
Amanda Cimaglia
Ashley Gladden
Arkeem Pearson
Jorge Rodriguez
Morgan Thomas
---
Stage manager: Magdalene Urban
Production manager and dialect coach: Kyle Eshom
Set: James Raymond
Scenic artist/painter: Jeff Huntington
Lights: Matthew Tillett
Sound: Lindsey Cohen
Assistant Stage Manager: Trevor Greenfield
Costumes: Caitlin Martinez
Musicians: Ken Kimble, Trent Goldsmith, Reid Bowman, Chris Mercado, Chris Pinder, William Georg, Randy Neilson, Paul Pesnell, Rich Estrin and Allyson Wesley.