*50 Years Under the Stars*

50 Years Under The Stars: A Musical Retrospective
September 9-18, 2016
Fridays-Sundays at 8pm
The Show
ASGT invites all past and present friends, fans, artists, volunteers, and the broader Annapolis community to celebrate with us as we revive highlights from our first 50 years and peer ahead into the next five decades of theatre under the stars.
Tickets are now available for 50 Years Under the Stars: A Musical Retrospective, an original production directed by Julie Ann Hawk and featuring a dynamite cast of familiar faces. This show puts the "fun" in "fundraiser" and will include music, dance, and stories.
Please join us! Tickets are $25 and available online only.
NOTE: 50 Years Under the Stars is a fundraiser for ASGT. Discounts are not available, and gift certificates/ticket exchanges may not be redeemed for this production.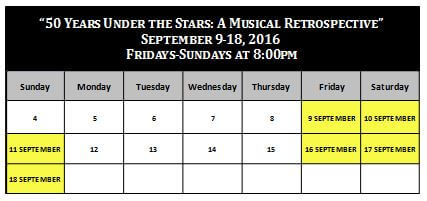 Directed by Julie Ann Hawk
Choreographed by Nick Carter
Orchestra Conducted by Ken Kimble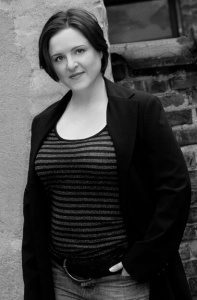 Julie Ann is excited to spend yet another summer under the stars with ASGT, and we're thrilled for her to direct this special performance! An Erie, Pennsylvania native, Julie Ann moved to Maryland in 2007 after finishing her graduate studies in Vocal Performance/Musical Theatre at New York University. She considers herself to be a nerd when it comes to musical theatre and history, and loves any chance to put the two together. At ASGT, she has performed in On the Town (Lucy Schmeeler) and Anything Goes; she was Musical Director for Swing!, 42nd Street, and Catch Me If You Can. She is thrilled to be given the opportunity to create such a unique piece of theatre for Summer Garden. Julie Ann is also proud to  be called Mom, Wife, a recently Licensed Massage Therapist, and Chorus and Piano teacher at Meade High School.
"I am incredibly humbled to be given the opportunity to help Annapolis celebrate the unique gem that is Annapolis Summer Garden Theatre. Many performers, musicians, crew members, ushers, and other volunteers have come together over the past 50 years to tell stories, and to have a good time doing it. Nicholas and I get to gather a group of people together again, but this time, we get to tell ASGT's story. Our duty is not only to entertain our patrons for this event, but to honor everyone who has ever walked through those doors. I relish such a challenge, and I can't wait for everyone to see what we come up with." – Julie Ann Hawk
Cast List
Nick Carter
Amanda Cimaglia
Lacy Comstock
Samantha Curbelo
Brandon Deitrick
Kirsti Dixon
Allie Dreskin
Tim German
Christian Gonzalez
Kyle Gonzalez
Andrew Gordon
Debra Kidwell
Amanda Matousek
Amy Matousek
Caitlyn McClellan
Eric Meadows
David Merrill
E. Lee Nichol
Emily L. Sergo
Monique Cheryse Wilson