Auditions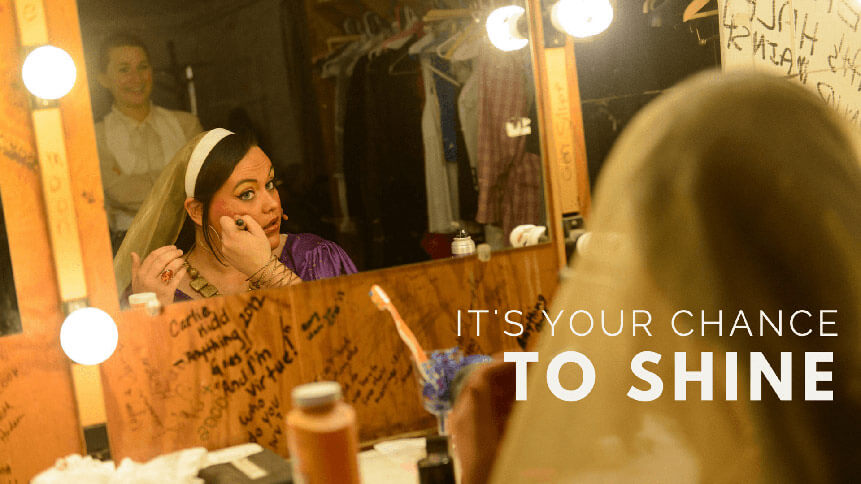 Yearning for the spotlight?
Open auditions are held each year in the late winter or early spring. Dates and requirements are announced on this page, on our social media pages, and in our e-mail newsletter. A press release announcing auditions is sent to the media.
During auditions, callbacks, and rehearsals, all those present must abide by ASGT's official Audition Policy (see below) and by Board of Education policies (if at a public school) or the policies of the host. This includes a prohibition against smoking anywhere on public school grounds.
Thank you in your interest in auditioning with ASGT!
Casting Call – 9 to 5 the Musical
We are looking for a few men to join the cast of 9 To 5: The Musical at Annapolis Summer Garden Theatre. Direction by Tommy Malek and Music direction by Rachel Sandler. We are casting both ensemble men and the role of Dwayne (Doralee's husband. He is very loving and supportive of her professional pursuits). High baritones and tenors preferred, but basses please do not be deterred! Roles are non-union/ non-paid. Rehearsals are generally Sunday-Tuesday with shows Thursday-Sunday August 2- September 2. Join us! Email asgt9to5@gmail.com for more info.
Learn more about our 2018 productions here.
Thanks for your interest in performing at ASGT!
There shall be no pre-casting of actors. All potential cast members must audition.
A minimum of two audition dates will be scheduled for each show. In exceptional circumstances only, if an actor has a valid conflict with scheduled auditions the Director may accept a recorded audition or conduct an initial audition at the beginning of callbacks.
All auditions are made public and open to all who wish to participate. Auditions are announced on ASGT's website, social media, and in our e-mail newsletter. A press release announcing auditions is sent to the media.
Actors of all shapes, sizes, ethnicities, and experience levels are encouraged to audition.
Auditions are open to anyone 18 years or older, which is defined as anyone who will reach the age of 18 by opening night of the production for which they're auditioning. Individuals who will not reach the age of 18 by opening night of the production may not audition.
Age restrictions may be waived for particular roles depending on the needs of each show. Any such waiver of age restrictions will be published in the official audition notice.
It is ASGT policy to cast "age appropriate" actors in all roles when possible.
ASGT does not accept audition forms, resumés, or headshots prior to the scheduled auditions.
Auditions are open or closed at the discretion of the Director and Board Production Director. Only those invited may come to call backs. No one may observe call backs without prior permission.
The Director, Music Director, and Choreographer for a production may not audition for, be cast in, or appear in that production except under special circumstances and with approval of the Board. Also, no one auditioning may sit at the casting table.
The following people must be present for the duration of auditions and call backs: Director, Music Director, Choreographer, Stage Manager, and two members of the Board.
The Director should be efficient in the use of the auditioners' time and respectful of their efforts.
The Director has final say on all casting decisions. ASGT leadership will provide input only if the Director asks for their input and/or if prior personnel issues (quitting a show, being fired, failure to show for rehearsals, etc.) are unknown to the Director and might affect casting decisions.
Individuals are expected to come to auditions and call backs dressed appropriately and professionally, with proper footwear for dancing/movement and legible music that is marked for the accompanist. They should bring a current headshot or a photo will be taken for them, and may bring a resumé (optional).
No one will be notified of casting deliberations or decisions during the public audition/call back process.
All who audition will be thanked by phone or e-mail for their participation by the designated production staffer. Individuals in consideration for a role but not ultimately cast will not be notified until those who were cast have accepted the roles offered.
Additional auditions (outside of the initial two nights and call backs), if necessary, will be publicly announced.
Performers are encouraged to audition for more than one ASGT show per season. ASGT and the Directors will make every effort to accommodate conflicting rehearsal schedules, with the earlier show taking precedence over the later show.
The use of illegal drugs or alcohol is never permitted during any ASGT audition or call back, or before/during any rehearsal or performance. Firearms/weapons are never permitted with the exception of Board-approved use for a production.