Stage/2 Project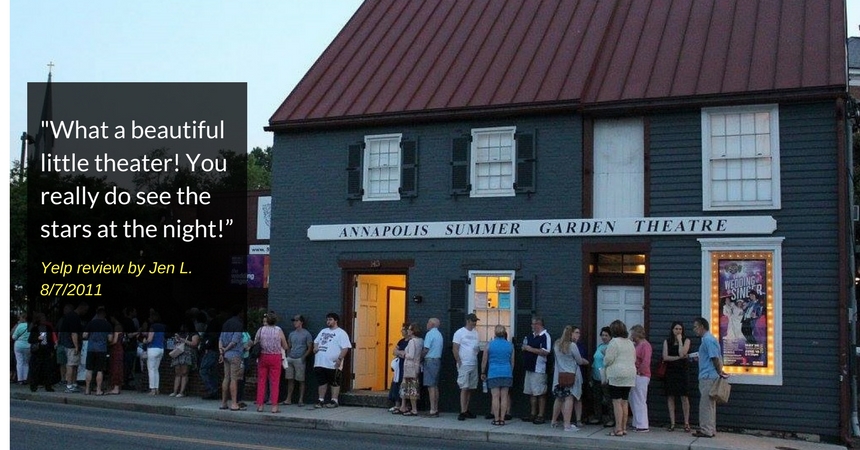 Stand tall and shine bright.
ASGT's Stage/2 Project is the second time we've undertaken a major restoration and renovation of our historic property. The first was in 1967, when a small group of arts enthusiasts converted a vacant blacksmith shop & warehouse in downtown Annapolis into the outdoor theatre space we occupy today.
Launched in our 40th anniversary year (2006), the Stage/2 Project is an ongoing, multi-phase project to restore, renovate, and rejuvenate our historic property. Essential upgrades to the building's exterior, interior spaces, stage, and seating will strengthen our historic structure while providing a more comfortable, modernized experience for our growing community.
This transformative project also addresses long-standing limitations of our historic building. Updates will allow ASGT to extend our downtown presence year-round; enhance the artistic experiences of our patrons, performers, and volunteers; expand our artistic and educational programs; and optimize our efficiency.
To view our original concept design from 2006, click here. These plans are being updated to address the organization's changing needs.
Click below to learn more!
Phase One of the project is complete, including:
Brick repointing to replace crumbling mortar and strengthen the building's structure (March-May 2010)
Exterior priming and repainting in a more historically accurate slate gray (Fall 2010)
Replacement of all exterior doors and windows (Fall 2011)
Replacement of the building's aging tin roof (March 2012)
Sound system upgrade including recabling, installation of new trusses, and installation of new weather-resistant speakers (Winter 2013) – read more
Acquisition of new weatherized LED lights (April 2014)
Repairs to the tech booth, emergency exit walkway, siding in the theatre's house (May 2014)
Strengthening and repointing of the historic brick wall on the western edge of our property, at audience left, which supported a promenade along the waterfront in the 1800s (June 2014)
Replacement of wood siding on the exterior wall facing the elementary school parking lot (December 2015)
Phase Two is the fun part! Improvements to the building's interior will include:
Expanded restroom facilities
Better traffic flow in the lobby
Improvements to the courtyard and exterior lighting
A lowered stage and sloped house floor with a comfortable walking surface
More "leg-and-elbow" room without sacrificing seating capacity
Improved sound and lighting capabilities
A fully acclimatized building, heated and cooled by geothermal energy and usable year‑round
An administrative office and meeting room

This fall, ASGT will undertake an essential project to upgrade our power capacity.
Our building, which dates to 1800, has been in use as a theatre since 1967—but our current power supply is basically a residential service. Due to significant power needs, most businesses and theatres use three-phase service, which more efficiently powers large equipment loads like motors, air conditioners, and stage lighting. Three-phase power is an industry standard for such applications.
As it stands now, ASGT's property draws more power than is available to us. This creates issues with equipment reliability and failure, as well as safety issues. Theatrical lighting is the biggest consumer of power, despite the incorporation of some new LED lighting instruments.
Plus, our dimmer rack is over 40 years old! Spare parts are no longer readily available, and without climate controls to cool the equipment, heat and humidity have caused deterioration and failure. Yet we cannot hope to move ahead with plans to install HVAC (heating and cooling) to protect equipment—and to make the building usable year-round—without an upgraded power supply.
The solution is to upgrade ASGT to proper power capacity, replace our dimmer rack, and install HVAC in select areas of the building—beginning with spaces that house technical equipment or are used by volunteers, performers, and crew. The increased capacity and climate controls will protect equipment, provide comfort, and reduce or eliminate costs related to building winterization, equipment repair, and rental of offsite locations for meetings in the off-season.
Your gift to the Stage/2: Power Up! campaign will help fund this critical project and ensure ASGT's shines brightly for many years to come. Please donate today!
Click the Your Role section below to learn other ways you can help.
To begin Phase Two, ASGT needs significant financial support from individuals, foundations, businesses, and corporate donors, large and small—and the continued support of our friends and fans, who can help with fundraising and serve as advocates for ASGT in their communities.
Here's how you can help!