Stage/2 Project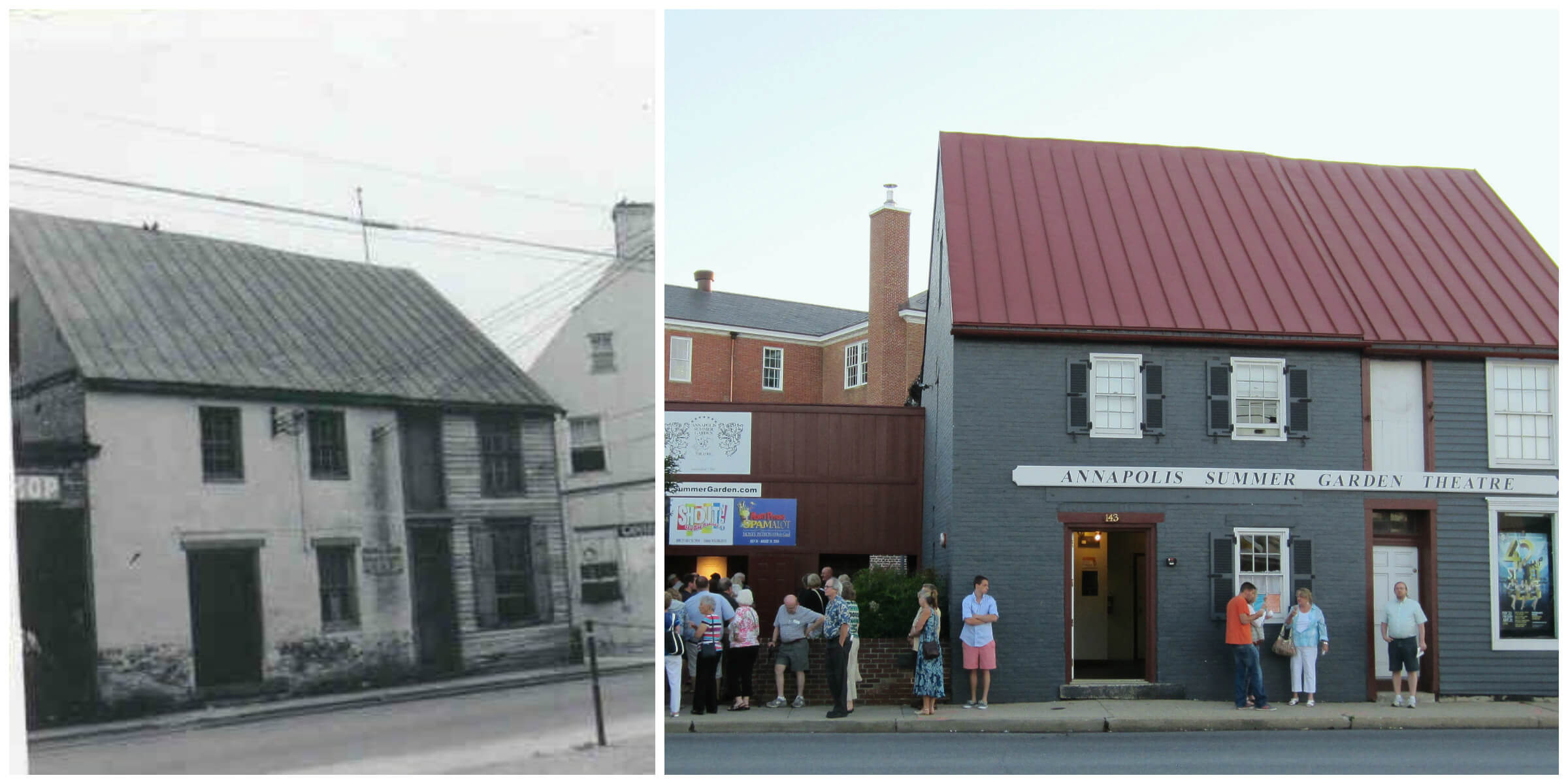 "What a beautiful little theater! You really do see the stars at the night!"
Yelp review by Jen L. 8/7/2011
In 1967, a vacant blacksmith shop & warehouse in downtown Annapolis was converted into an outdoor theatre by a small group of arts enthusiasts. It was a labor of love.
ASGT's Stage/2 project represents the second time we've undertaken a major restoration and renovation of our historic property.
Stage/2 was launched in our 40th anniversary year (2006). Working with esteemed architect Michael Dowling, an exciting concept design was developed to invigorate the historic property in three ways:
RESTORE our building, preserving its historical integrity;
RENOVATE the building and theatre to provide a modern environment conducive to the production of top-quality entertainment; and,
REJUVENATE the spirit of our artistic community, volunteers, donors, and audiences who have supported ASGT for 50 years, and counting.
Phase One of the project is complete, including:
Brick repointing to replace crumbling mortar and strengthen the building's structure (March-May 2010)
Exterior priming and repainting in a more historically accurate slate gray (Fall 2010)
Replacement of all exterior doors and windows (Fall 2011)
Replacement of the building's aging tin roof (March 2012)
Sound system upgrade including recabling, installation of new trusses, and installation of new weather-resistant speakers (Winter 2013) – read more
Acquisition of new weatherized LED lights (April 2014)
Repairs to the tech booth, emergency exit walkway, siding in the theatre's house (May 2014)
Strengthening and repointing of the historic brick wall on the western edge of our property, at audience left, which supported a promenade along the waterfront in the 1800s (June 2014)
Replacement of wood siding on the exterior wall facing the elementary school parking lot (December 2015)
Phase Two is the fun part! Improvements to the building's interior will include:
Expanded restroom facilities
Better traffic flow in the lobby
Improvements to the courtyard and exterior lighting
A lowered stage and sloped house floor with a comfortable walking surface
More "leg-and-elbow" room without sacrificing seating capacity
Improved sound and lighting capabilities
A fully acclimatized building, heated and cooled by geothermal energy and usable year‑round
An administrative office and meeting room
With Phase One of this extensive, ongoing project complete, we're back in planning mode, developing a capital campaign to raise funds for Phase Two.
If you have experience with capital campaigns or other types of fundraising, we could use your help! If you'd like to assist ASGT with the Stage/2 campaign, please e-mail the Board President.
To begin Phase Two, ASGT needs significant financial support from individuals, foundations, businesses, and corporate donors, large and small—and the continued support of our friends and fans, who can help with fundraising and serve as advocates for ASGT in their communities.
Here's how you can help!
Make a donation to Stage/2.
Explore opportunities for business/corporate support by e-mailing the Board President.
Assist with individual and foundation fundraising efforts. E-mail the Board President to get started.
Follow our progress and spread the word! Tell your friends and family about ASGT's contribution to the community and urge them to contribute and get involved.