50th Anniversary (2016)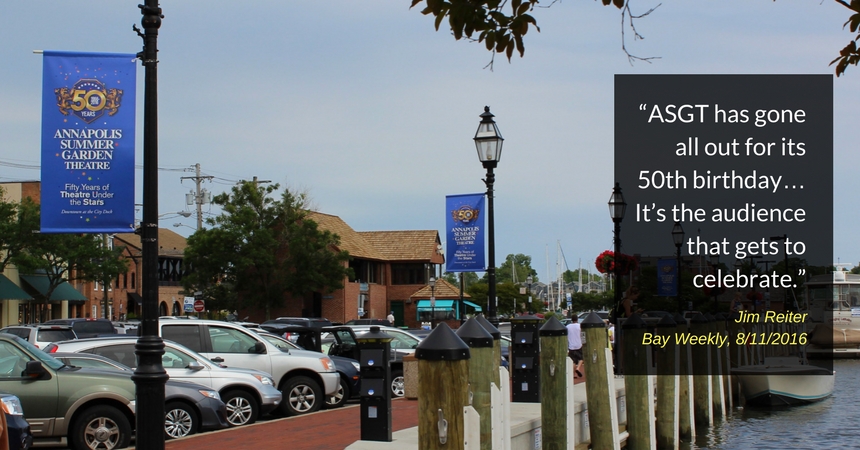 For five decades, with the help of an ever-evolving corps of volunteers, ASGT has entertained our community with live musical theatre in an intimate outdoor setting in historic Annapolis. (Read about ASGT's history.)
Our 50th anniversary was an exciting opportunity to celebrate our rich history. It also presented an opportunity to stretch ourselves creatively, set a course for the future, and dream up new ways to entertain, engage, and delight you. After all, ASGT is "still as original, fresh, and frisky as a young puppy". DCMetro Theater Arts 8/7/2015
You showed up to celebrate with us in brilliant fashion as we produced:
An exuberant season of musicals: The Wedding Singer, RENT, and The Producers
50th anniversary gala event featuring a concert version of Brigadoon (details below)
50 Years Under the Stars, an original musical revue, in September 2016
A 50th anniversary documentary video made possible through a strategic grant from the Arts Council of Anne Arundel County
This brand new website, a refreshed logo, and a redesigned season brochure
Anniversary banners displayed at City Dock and on Main Street from June 15-July 15
Your enthusiastic support was awe-inspiring. Thank you. Here's to the next 50 years!
Press Coverage of the Celebration
ASGT's 50th Anniversary Gala
Saturday, May 7, 2016
William Paca House and Gardens
186 Prince George Street, Annapolis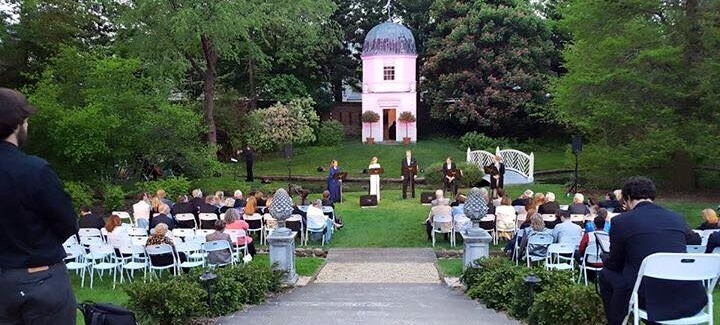 Our hearts are full. Our 50th Anniversary Gala on May 7th was a night we'll never forget. ASGT and our guests enjoyed food and drink, reconnected with old friends and met new ones, reminisced, remembered those who couldn't be with us, and celebrated as the sun went down. Plus, we enjoyed a magical concert performance of Brigadoon, the first musical ASGT ever produced. All of this fun took place on the very spot where ASGT presented its first performance season in 1966.
ASGT's current Board, artistic community, and volunteers stand on the shoulders of countless individuals who carried the organization forward to where it is today. We're grateful for their commitment–and their blood, sweat, and tears!
We're thankful, too, for our current artists, volunteers, patrons, donors, fans, and friends. Your positive energy and enthusiasm keep us going. We do it all for you.
Please join ASGT in thanking the following people who helped make the event a success:
All who attended the event and celebrated with us!
50th Anniversary Committee Chair Sharon Cimaglia
The entire 50th Anniversary Committee, especially Pat Browning (Event Coordinator), Eloise Ullman, Amanda Cimaglia, Debra Kidwell, and Carolyn Kirby
Jody Dalton of Historic Annapolis for her expert assistance
Brigadoon director & conductor, and the nicest guy you'll ever meet, David Merrill
Our uber-talented corps of Brigadoon musicians
Our amazing singers Ashley Gladden, Molly Green, John Halmi, and Tom Magette
Board members Dan Caughran, Dan Snyder, and Scott McCormick and their hardy group of volunteers who transformed the Paca Gardens into a performance space
Our friends & local businesses who donated items for our raffle: Duncan Hood, Blanca Flor, Loews Annapolis Hotel, Zachary's Jewelers, Tsunami, Metropolitan, Lemongrass, and Dan Caughran
Everyone else (Board, volunteers, event staff) who pitched in, in ways large and small, to make the event a success!
And special thanks our valued event sponsors. Click the logos below to check them out!