Get To Know: Mason Catharini

Director Mason Catharini makes his directing debut at ASGT this summer with our upcoming production of The Full Monty. We're thrilled to welcome him to the ASGT family. An actor, director, and founder of the AF Theatre Company at UMBC, Mason is a recent graduate of UMBC and directed RENT at Wildwood Summer Theatre in Bethesda, Maryland in 2015. We asked Mason a few questions so you can get to know him better.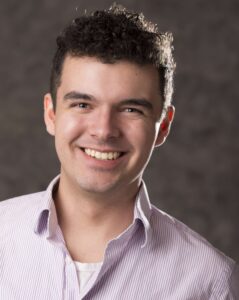 When and how did you first get involved in theatre?
My first involvement in theatre was when I was 13 and accidentally cast in my middle school's production of The Sound of Music. Growing up in an immigrant household, I didn't get any exposure to theatre, or any of the classics outside of Disney films, so I had no clue what I was getting into. I wandered into the audition room and they asked me to sing "Happy Birthday", then gave me a choice between the roles of Rolf and Captain Von Trapp. I remember saying "Well, that guy is a Captain", and that was it!
What is your favorite play and/or musical? 
I have a soft spot in my heart for Man of La Mancha. I reread Don Quixote every few years, and the musical was a huge influence on my theatrical tastes growing up. One of my college admissions essays was actually all about it!
My favorite play might be Arcadia, by Tom Stoppard. It's wordy, but I love the ideas in it. Stoppard was adept at melding science, mathematics, and humanity all at once in a swirling dance of a play. As an English scholar, I'm a big fan of all the references to Romanticism as well!
How long have you been directing, and what was your first directing job?
My first directing gig was in college, where I headed a production of The Wiz with UMBC's Musical Theatre Club. I was actually cast in the show years beforehand as Scarecrow, so luckily I was familiar with the material, but it was a rude awakening to all the work and long hours that a director puts into a production! I fell in love with the work, though, thankfully.
What show are you just dying to direct?
I've always wanted to put on a production of Hair. I have a lot of close friends with whom I've designed practically every part of the production already, but for a variety of reasons, we haven't gotten around to it yet. It's another show that was really formative for me: it was my first Broadway show.
What attracted you to The Full Monty?
The Full Monty is just a load of fun. It's the type of show that grows on you more and more as you work on it. It's been incredibly challenging too, for all areas of production, which only will make the end result more rewarding.
What about The Full Monty do you think ASGT's audiences will enjoy most? What will surprise them most?
I think the surprises (outside of the big finale) will come from the depth that we've found with these characters and their experiences. We're going to see the reasons why these characters are struggling, and how these silent struggles (depression, body issues, anxiety) help shape who they are and what they may become. There's a great deal of sincerity that we've gotten out throughout the process, and we're all excited to put that on stage for audiences to see.
What's the best part of being a theatrical director?
The best part of the job is the work that happens in the rehearsal room. It's an amazing experience being in the room with actors and trying to find the story—not just the one that is written in the script, but the one that exists living and breathing on stage. Then there's the satisfaction of everything falling into place production-wise. It almost makes up for the sleepless nights and the endless drafting. Almost.
To learn more about The Full Monty, click here.