Get To Know: Kanysha Williams

Kanysha Williams makes her ASGT debut this weekend as Deloris Van Cartier in Sister Act. We're thrilled to welcome her to the ASGT family, and very excited for you to experience her amazing talent firsthand! We recently asked Kanysha a few questions so you can get to know her better.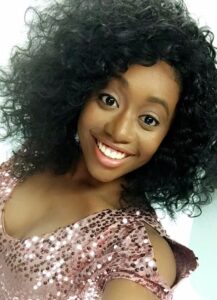 When and how did you first get involved in theatre?
I believe my very first theatrical production was in middle school. I'm pretty sure I played a leaf on a tree or something like that. However, I seriously began my theatrical journey about 2 years ago. I kind of fell into theatre, by accident. A friend of mine invited me to an audition with him and I ended up getting the lead. I had such an amazing experience, and I knew this was something that I was made for. I've been chasing the dream ever since.
What was your first role? What is your favorite role to date?
My first role was Dorothy in The Wiz. It also happens to be my favorite. I did The Wiz at a time in my life where I was dealing with a lot, so while I was "easing on down the road" in Dorothy's journey, I was maneuvering one of my own. I finished that production with a sense of purpose and direction. That show will always mean a lot to me; it really helped me through a lot.
Is there a show you're just dying to be in, or a role you're dying to play?
Ummm, Hamilton! Of course, but I'm sure that's a pretty common answer. I suppose if I could have my way, I'd love to play Roxie Hart in Chicago. She's such a complex character and the MUSIC! Ahhhhhh!! All that jazz!
What training do you have in acting, singing, or dancing?
Well, I'll always tell people that I'm a singer first. I spent four years in the Vocal Music program at the Duke Ellington School of the Arts in Washington DC. From there, I studied voice at The San Francisco Conservatory of Music in San Francisco, CA. Then I received my Bachelor of Music degree from George Mason University.
While at Ellington, I was apart of the Ellington Show Choir, which required us to take classes in ballet and modern dance. These past few years, I've invested some time and energy into dance and acting lessons. I plan to never stop learning. Every class, lesson, and performance gives me the opportunity to grow more as an artist. I hope to always be a student of this world of musical theatre!
What attracted you to Sister Act?
Initially, it was the opportunity. There aren't many roles that are specifically written for women of color. More often than not, we (WOC) have to prove that we can do what others can do, rather than having something catered to us, so when I researched the role, and saw Patina Miller's phenomenal rendition of Deloris, I knew I needed to do it.
Then came the music! I think there's a part of every girl that wants to be a Disney princess, so when I saw Alan Menken's name on the score, I knew this was my best shot. He's responsible for most of Disney's famous classics, so I knew I was in for a treat when I got the score. I was not disappointed. The music is, well, fabulous!
What do you think ASGT's audiences will enjoy most about Sister Act? 
This show is hilarious. I'm pretty sure it's the most comical thing I've ever been apart of it. This production is made for those who want to have a great evening at the theatre. It's accessible to everyone. You'll enjoy it whether it's your first or 100th time at a theatre. It has tons of laughs, really catchy music, and a story line that we all know and love.
What's the best part of being a performer?
For me, there's a moment. A moment where I'm completely in sync with the band, the tech crew, the ensemble, the choreography, the character, etc. It's that moment where all of the preparation, the long nights, and the rehearsals have paid off and you can feel that everything is exactly as it should be. It's the satisfaction of your hard work, and the reward of your diligence and effort. When I've achieved that moment, I am re-affirmed in my decision to pursue theatre, I am filled with a love for music that is unparalleled, and I know that I'm exactly where I belong.
I hope that you will come out and see Sister Act, and that we can create and experience those magical moments, together.