Get To Know: Clare Shaffer

Director Clare Shaffer makes her directing debut at ASGT this summer with our upcoming production of Sister Act. We're thrilled to welcome her to the ASGT family. Clare got her B.A. in Dramatic Arts and Communications from UNC Chapel Hill and has directed at numerous theatres in our area. We recently asked Clare a few questions so you can get to know her better.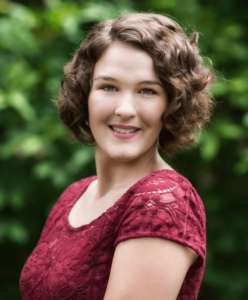 When and how did you first get involved in theatre?
I first became involved in theatre back in high school. I started out acting (by way of peer pressure), then playwriting (by way of curiosity), and eventually directing (by way of a teacher who saw something in me that I had not yet discovered). When I went to college, I double majored in Dramatic Arts & Performance Studies and ran my own theatre company, producing between 6-8 shows each school year. After that, there was no looking back.
What is your favorite play and/or musical? 
Today, my favorite musical is Natasha, Pierre & The Great Comet of 1812 and my favorite play is Who's Afraid of Virginia Woolf. Ask me again tomorrow and I'll have a different pairing.
How long have you been directing, and what was your first directing job?
My first directing job in the area was a production of The Rocky Horror Picture Show for the Georgetown Gilbert & Sullivan Society. We rehearsed in the chapel on campus—people would often poke their heads in looking for a preacher only to find a fully-fishnetted Frank-N-Furter strutting his stuff. Those law students rocked.
What show are you just dying to direct?
Sondheim's Assassins—and thankfully I will be taking a crack at that one this fall with Pallas Theatre Collective in DC! I'm directing an actor-muso production, with the whole cast playing both roles and instruments throughout the show. It's going to be a blast (shameless plug here).
What attracted you to Sister Act?
The script is incredibly smart and funny, the music is non-stop fun, and there are so many opportunities for each member of the ensemble to shine! Full ensemble incorporation is a characteristic of most of the work that I do, and I've enjoyed developing every one of these characters.
What do you think ASGT's audiences will enjoy most about Sister Act?
The sharp dialogue, hilarious characters, inventive choreography (thanks to Rikki Howie) and stunning vocals (thanks to Paige Rammelkamp).
What's the best part of being a theatrical director?
No work day is ever the same—there are always new discoveries, new faces, and new moments of connection.
For more about Clare, please visit her website. To learn more about our production of Sister Act, click here.