Altar Boyz
Altar Boyz
June 28-July 21, 2018
Thursdays-Sundays plus Wed. July 18, all at 8:30pm
Book by Kevin Del Aguila
Music & Lyrics by Gary Adler and Michael Patrick Walker
Conceived by Marc Kessler and Ken Davenport
The Show
Altar Boyz is a foot-stomping, rafter-raising musical comedy about a fictitious Christian boy band on the last night of their national "Raise the Praise" tour. The Boyz are five all-singing, all-dancing heartthrobs from Ohio: Matthew, Mark, Luke, Juan, and Abraham. With tight harmonies and spectacular choreography, the Boyz do their best to spread the word of God through pious pop music, including signature hits such as "Rhythm In Me," "The Calling," "Jesus Called Me On My Cell Phone," and "I Believe".
Their act worked wonders on the Ohio bingo-hall-and-pancake-breakfast circuit, but as the tour draws to a close in New York, the Boyz begin to question their loyalty to each other and are tempted to take a bite out of the forbidden Big Apple. Faced with a tough decision, they discover that "there is no star as bright as its constellation, no harmony in a single voice."
Winner of the 2005 Outer Critics Circle Award for Best Off-Broadway Musical, Altar Boyz is presented in real time as a concert, complete with audience interaction. With side-splitting songs convincing enough to be played on MTV, tight dancing, uncontrollable laughs, and lighthearted fun, this award-winning original musical is 90 minutes of pure delight.
Rated PG.
Parental discretion is always advised. Parents/guardians should determine beforehand whether the subject matter is appropriate.
Directed by Mark Briner
Music Director: Ken Kimble
Choreographer: Becca Vourvoulas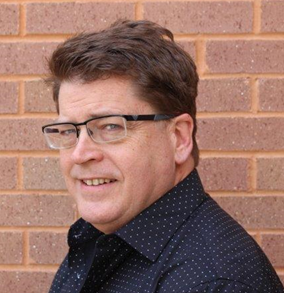 We are thrilled to welcome Mark back to ASGT following two recent highly successful and acclaimed shows. Mark recreated the magic of the 1960s with his direction of ASGT's 2015 production of Catch Me If You Can (2016 Ruby Griffith Best Musical 1st runner-up) and the fun, over-the-top silliness of the 1980s in our 2016 production of The Wedding Singer.
Mark is a graduate of The Johns Hopkins University, where he helped establish the student performing group the JHU Barnstormers. Mark has been active in community, regional, and dinner theatre as a performer, director, costume designer, set designer, and producer with numerous awards to his name. His directorial credits include such varied pieces as Chess, Altar Boyz, Evita, Once on This Island, She Loves Me, Fool for Love, Vanities, The Wizard of Oz, and Dreamgirls, which was produced with a grant from Dreamworks Studios and named Best Musical of 2006 in numerous awards throughout the Baltimore/Washington area. An active proponent of the arts, Mark serves as a member of the Board of Directors for Tidewater Players, the Children's Playhouse of Maryland, and is a founding board member of Winters Lane Productions.

Cast List
Matthew: Jamie Jacobs
Mark: Angel Duque
Luke: Ben Heemstra
Juan: Michael Parks
Abraham: Zach Husak
Articles & Reviews
Promotional Video from Babs Weiss for ASGT: