Remembering Ed Wintermute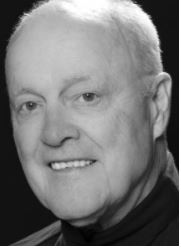 ASGT was saddened to learn of the recent passing of Ed Wintermute, an absolute treasure of the Annapolis-area theatre scene for many years. Ed appeared on ASGT's stage many times, including as Daddy Warbucks in Annie, the Narrator in Into the Woods, Charlie Cowell in Music Man, Corin in As You Like It, and countless others.
His most memorable role for many may be the Ghost of Christmas Present in A Christmas Carol at Colonial Players. Ed appeared in all but one season of the perennial favorite.
We will always remember Ed's beautiful singing voice and gentle kindness. We send love and light to his wife Beth, his daughters Catherine Hollerbach and Karen Keough, and the rest of his family during this difficult time. You can view his obituary here.
Ed's family has graciously requested donations to ASGT in his memory. To contribute, visit our Donate page and click the PayPal "Donate" button. Use the "Add special instructions for ASGT" to let us know your gift is being made in Ed's honor. We will share the names of all memorial donors with Ed's family.