Vote for ASGT in "Best of the Bay"!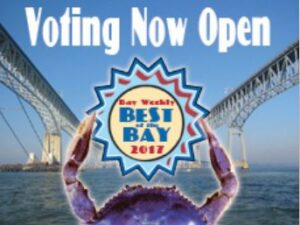 Each year, Bay Weekly newspaper invites their readers to vote for the "Best of the Bay" and choose some of their favorite things about Chesapeake country. Last year, ASGT was thrilled to be named "Best Theater Company" and to win Best Theater Production for our 2016 productions of RENT and The Producers (in a two-way tie!).
We hope you will once again take a few minutes to complete the Best of the Bay ballot, choose ASGT as Best Theater Company, and name one of our 2017 productions as your favorite: Sister Act, The Full Monty, In The Heights, or Light Up the Stars.
To vote, pick up a copy of Bay Weekly at your favorite local spot, and then complete and mail the ballot. Or you can vote online at bayweekly.com, but you will need to create a username and password.
Thanks in advance for your support. ASGT has the best fans anywhere, and we deeply appreciate everything you do for us!